2015-08-01 STONE CHURCH SETLIST:
Expressway >
US Blues
Hey Pockey Way
When I Paint My Masterpiece (Rich-accordion/guest Steve-fiddle)
Tennessee Jed
Tore Up Over You
Cassidy (guest Steve on mandolin)
Bird Song >
Truckin' >
Bird Song
Greatest Story Ever Told
Shakedown Street >
Sugaree
Playin' in the Band >
Other One (jam) >
Me and My Uncle >
Other One >
Wharf Rat >
Playin' (reprise)
St Stephen >
Dear Mr Fantasy
One More Saturday Night
Thank you all for sharing Jerry's birthday with us. Still blown away by how much you all ROCKED last night!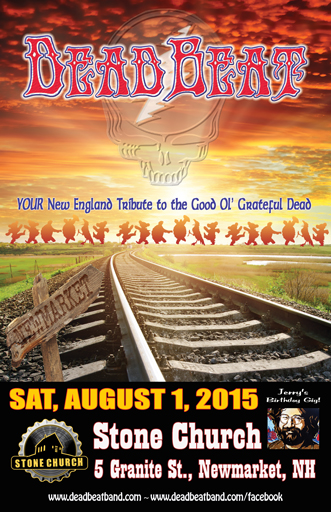 Celebrate Jerry Garcia's Birthday with DeadBeat
WE LOVE THIS PLACE! Intimate, with great food (come early and have dinner!), great local folks and PLENTY of room for dancing.
Doors a 8:30 pm, Show at 9 pm
SEE YOU THERE!
Stone Church
5 Granite Street
Newmarket, NH
603-659-7700
MAP: