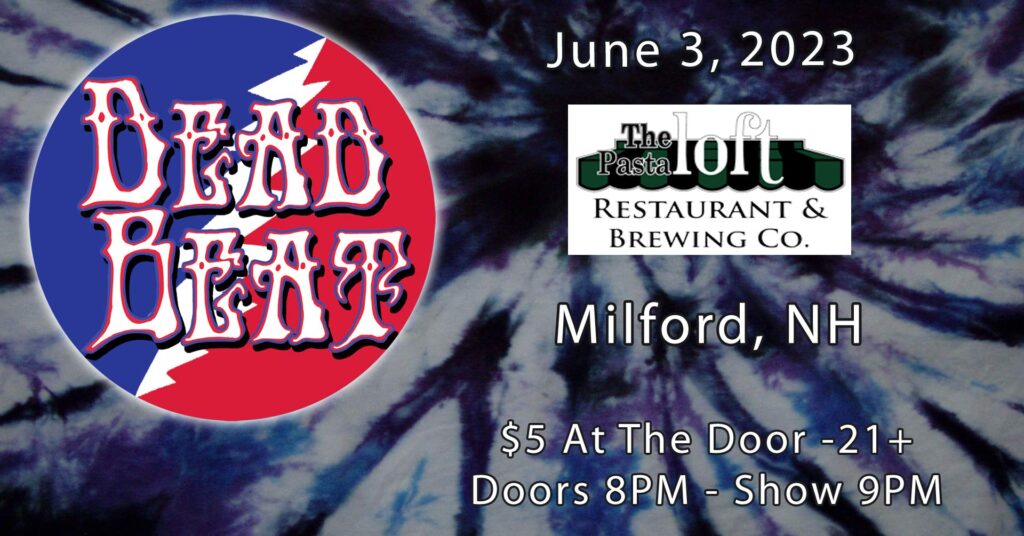 SETLIST: 2023-06-03 Pasta Loft
Jack Straw >
Franklin's Tower
Cripple Creek
Cassidy
Here Comes Sunshine
Sugaree
Me & My Uncle >
Big River
Wang Dang Doodle
Deal
Shakedown Street >
Good Lovin'
That What Love Will Make You Do
Eyes of the World >
Other One >
Wharf Rat >
St Stephen
One More Saturday Night
Well, the Loft was jam-packed with a roomful of AWESOME people tonight. Y'all had us amped up from GO-time… and we are so grateful for that. Too much fun!!
Hey Now!
DeadBeat will performing at the Loft in MIlford, NH on June 3rd, 2023. Doors at 8PM and music begins at 9PM.
We love The Loft! Come early for the great food and stay to enjoy the show!
This show is special for us because we are celebrating the band's 18th anniversary!
Looking forward to playing for all of our fans who asked about rescheduling the March show that was postponed due to weather.
Tickets are $5 at the door. This show is 21+
The Loft
241 Union Square
Milford, NH