SETLIST: 2018-09-21 Zorba's, Lowell with Mark Karan
Harder They Come>
Beat It On Down The Line
That's What Love Will Make You Do
Brown-Eyed Women
Big River
White Rabbit
Mississippi 1/2 Step>
Deal (Mark lead vocal)
Shakedown Street >
Greatest Story Ever Told
Don't Let Go (Mark lead vocal)
Tore Up Over You
St Stephen >
Not Fade Away >
St Stephen
Franklin's Tower >
Sugar Magnolia / Sunshine Daydream
US Blues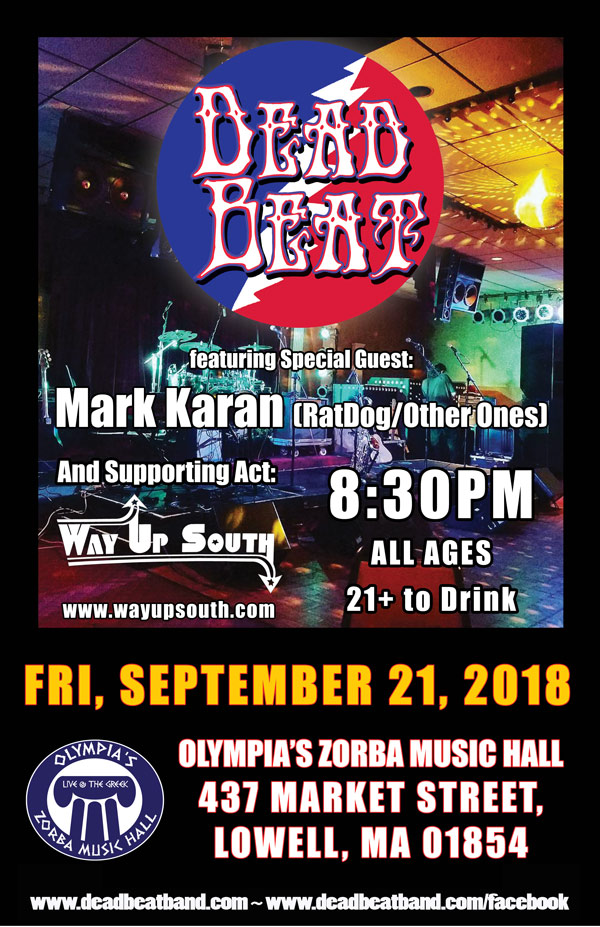 DeadBeat will be bringing the juice to Olympia's Zorba Music Hall in Lowell, MA on Friday, September 21, 2018 at 8:30PM! Our old friend Mark Karan of Rat Dog and The Other Ones will be sitting in with us!
This is an all ages show with a bar available to those 21 and over!
Way Up South will be opening the show!
We look forward to seeing you there!