SETLIST: 2020-09-12 MENDON DRIVE-IN:
Another AMAZING Grateful Dead Night at Mendon. Thanks so much for packing the lot, everyone…you were all extraordinary!!
Jack Straw>
Franklin's Tower
Sugaree
Big River
Tennessee Jed
Mr. Charlie
One More Saturday Night
That's What Love Will Make You Do
China Cat Sunflower>
I Know You Rider
The Music Never Stopped>
Scarlet Begonias
White Rabbit
Terrapin Station>
Samson & Delilah
He's Gone>
Truckin'>
Goin' Down The Road Feelin' Bad
With A Little Help From My Friends*
US Blues
(*first time played)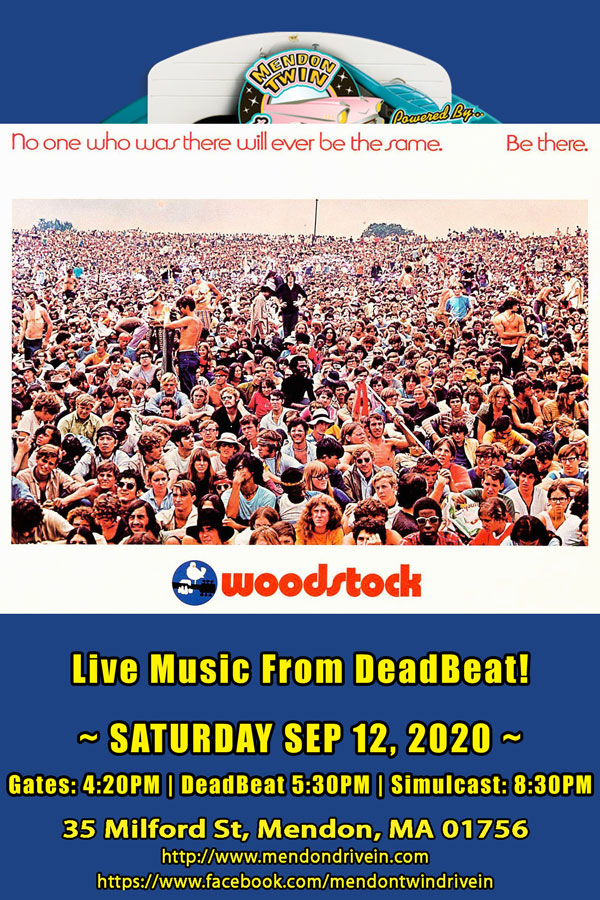 Hey Now! DeadBeat is back, outdoors and live, at the Mendon Twin Drive-In in Mendon, MA on Saturday September 12 at 5PM! We are so psyched for this big, safe and fun outdoor show!
The Gates open @4:20 pm.
DeadBeat performs Live & In Person @ 5:30-8:00.
Woodstock ( concert film) @ 8:30 PM
Enjoy the sounds from your vehicle at Mendon Twin Drive-In!
At about 5PM, DeadBeat will play a two-set show in front of the screen.
At about 8:00PM, Woodstock movie will play a chronicle of the legendary 1969 music festival.
We will have 6 beers on tap, wine and sangria, plus Judi's Snack Bar and Ernie's Ice Cream will be open all night to feed any cravings.
Watch and listen inside or outside your car. We will park every other space and the band will play under the big screen. You must stay in your space unless using restrooms or heading to the snack shack and beer garden.
This will be a one screen event and spaces are limited!
The box office will open for VIPs at 3:20PM; regular admission at 4:20PM.
Tickets are $50 per vehicle.
VIP tickets are $100 per vehicle and include early admission at 3:20PM for the best parking spots, souvenir laminates, and free drive-in pass to come back for a movie.
We will safely enjoy One More Saturday Night. Tickets are very limited this year, so no Waiting For A Miracle! We will see you there!
We will see you there!