SETLIST: 2015-07-05 Mendon Drive-In
Bertha
Beat it on Down the Line
Mr Charlie
Brown-Eyed Women
Big River
Me and Bobby McGee
Tennessee Jed
Greatest Story Ever Told
Deal
Music Never Stopped>
Scarlet Begonias>
Music Never Stopped
Sugaree
Eyes of the World>
Jack Straw>
Sugar Magnolia>
He's Gone>
Lovelight>
Sunshine Daydream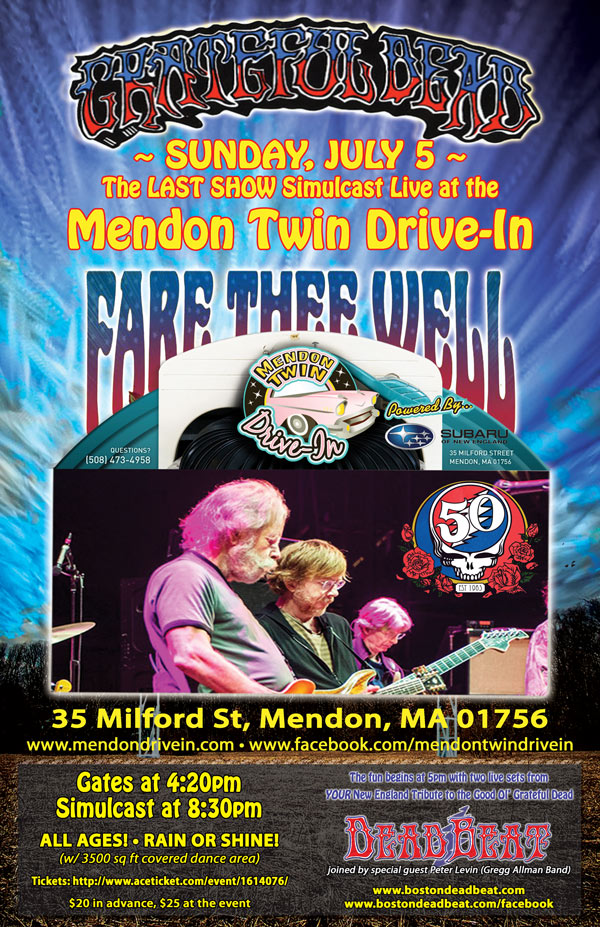 Hey All. HUGE NEWS! The gig of all gigs!
So, you can't make it to Chicago for the last Grateful Dead show? No problem! The good folks at the Mendon Twin Drive-In (Mendon, MA) are going to simulcast it live (July 5th) on their ENORMOUS screen. And here's the kicker…DeadBeat is going to play live at the Drive-In from 5-8pm…right up until showtime! We will be featuring special guest Peter Levin on keyboards, of the Greg Allman band and The Blind Boys of Alabama.

You may want to get your tickets early. Word is already spreading fast….and we'd LOVE to share this special night with all of you…our DeadBeat friends & family.
 Here are the ticket details:
Early bird tickets go on sale Thurs May 14th at 10AM Ace Ticket.
Tickets are $15 for early bird, then $20, then $25 at the door (if available). VIP ticket are $50.
This is an ALL Ages Show. Ticket prices are per person, and includes both our show AND the GD simulcast.