SETLIST: 2023-01-20 Acoustic Trio- Dirigible Brewing – Littleton, MA
Set I: Cold Rain and Snow, Beat it on Down the Line, Friend of the Devil, It's All Over Now, Althea, Me & My Uncle> Big River, Dire Wolf, The Race is On, Peggy-O, Cassidy, Sitting Here in Limbo, When I Paint My Masterpiece, Scarlet Begonias
Set II: Brown-Eyed Women> Jack Straw> Franklin's Tower, Dead Flowers, Mississippi Half-Step, Me & Bobby McGee, Uncle John's Band, Bird Song> Truckin'> Bird Song, Eyes of the World> JAM> Goin' Down The Road Feelin' Bad
Encore: The Weight
Thank you all SO MUCH for packing the place. We welcome your thoughts, pics and vids here. Dirigible is a great spot, and we will be back!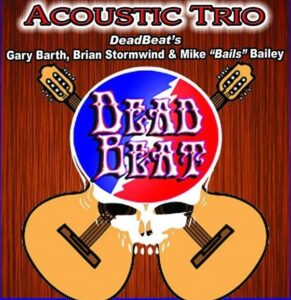 The DeadBeat Acoustic Trio is so excited to play at Dirigible – Littleton's awesome new brewery! Dirigible has a great vibe and is run by very cool people. Hope to see you there!