SETLIST: 2021-11-06 Pasta Loft – Milford, NH
Mississippi Half-Step >
Big River
Cripple Creek
West LA Fadeaway
Cassidy
Me & Bobby McGee
Bird Song
China Cat Sunflower >
I Know You Rider
Shakedown Street
Playin' in the Band >
Crazy Fingers >
Playin' (reprise)
Uncle John's Band >
Dear Mr Fantasy >
Scarlet Begonias
The Wheel
Throwing Stones >
Touch of Grey
Hard To Handle
It was sooooo great returning to the Pasta Loft and seeing you all!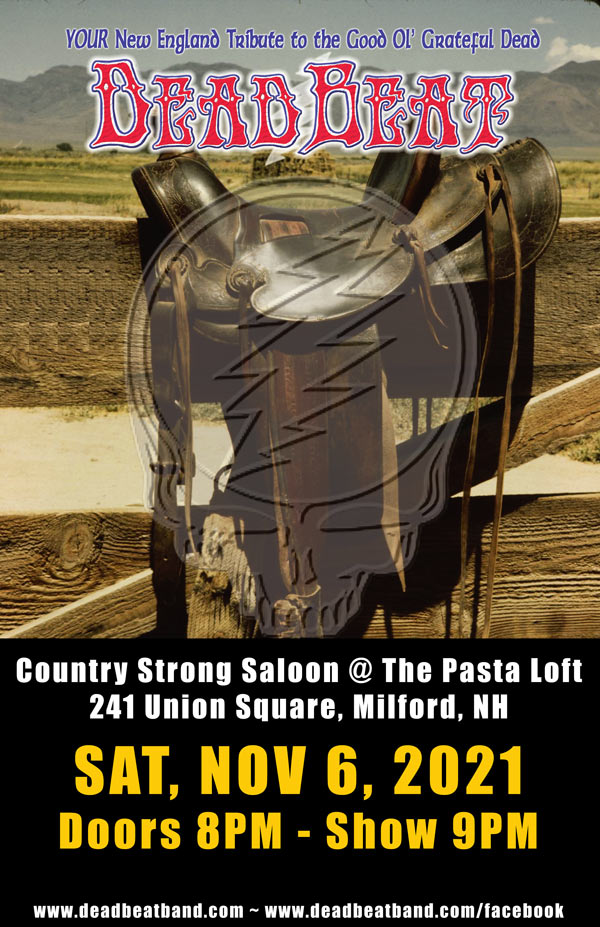 DeadBeat will be playing on Saturday November 6, 2021 at The Country Strong Saloon at The Pasta Loft in Milford, NH. The show is 21+ and $5 in advance/$10 day of show.
Doors open at 8PM and we will perform 2 sets beginning at 9PM
Ticket reservations may be made for calling the club at (603) 672-2270

Pasta Loft
241 Union Square #4,
Milford, NH 03055