SETLIST: Harlow's Pub 2017-02-17
*= (4) songs first time played!
Promised Land
That's What Love Will Make You Do
They Love Each Other
All Over Now
White Rabbit
Don't Let Go
Jack Straw>
I've Got A Feeling*>
Deal
Music Never Stopped
Feel Like A Stranger>
Franklin's Tower
Stir It Up
Eyes of the World>
Throwing Stones*>
Not Fade Away >
Goin' Down The Road Feelin' Bad>
Cold Rain and Snow
Quinn the Eskimo*
E: Brokedown Palace*
E2: Heavy Things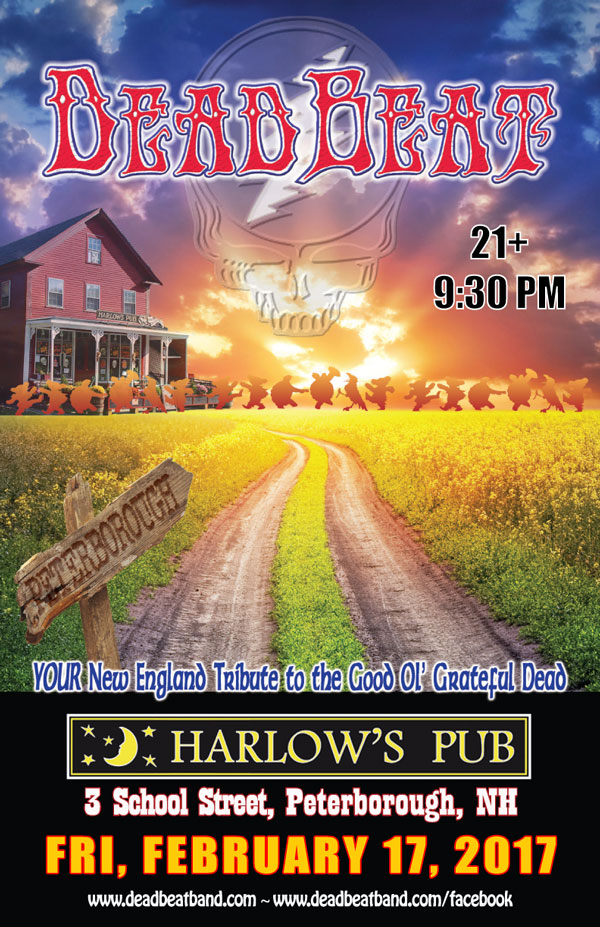 On Friday February 17, 2017, DeadBeat will be rock'n the house for a couple of Jam'n sets beginning at 9:30PM!
WE LOVE THIS PLACE! Intimate, with great food (come early for dinner!), great local folks and plenty of room for dancing. The staff are the BEST! This show is 21+
SEE YOU THERE!

Harlow's Pub
3 School st.
Peterborough, NH.
603-924-6365
http://www.harlowspub.com